Posted on by Taylor Williams in Market Reports, Texas, Texas Market Reports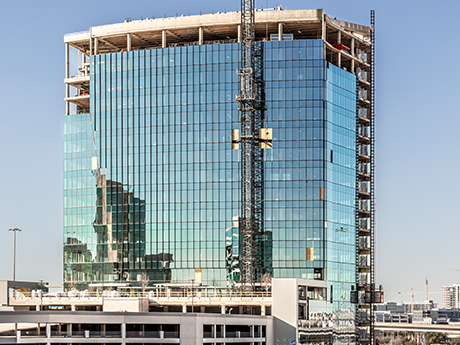 SiteAware provided digital field verification services for Granite Park VI, a 419,000-square-foot office building in Plano. Owner Granite Properties broke ground on the project in late 2021 and expects to fully complete the building later this year.

By Eric Barnes, director of business development at SiteAware
Texas has been one of the most attractive states for corporate relocations and sustained construction growth, spurred on by attractive tax benefits, a low cost of living and business-friendly policies. As such, Texas remains well-positioned for a robust and profitable construction economy into 2023.
According to The Wall Street Journal, Texas cities rank among the fastest-growing in the country in terms of population. This strong population growth, coupled with a robust job market and strategic location, continues to attract employers.
In 2021, the state saw a record number of headquarters relocations. Though that figure has dipped in 2022 due to the conclusion of state-sponsored tax breaks, the local market remains healthy and attractive to developers and investors.
In addition, the slowing down of relocations isn't necessarily bad because it allows the state to ensure the success of companies already operating in Texas. Regardless of this dip in activity, the heightened need for more multifamily and commercial development continues and has translated to an influx of construction projects within the state.
Challenges, Opportunities
Texas contractors and developers are looking for better ways to manage construction sites and take on more projects to leverage the state's growth in their favor. With the onset of severe inflation, value-driven solutions that decrease construction project rework and better optimize time and resources are top priorities.
Rework resulting from construction errors is more than merely tolerated today— it's expected and built into project budgets and timelines, accounting for $273 billion worth of construction errors each year. Because rework typically accounts for 30 percent of the labor costs, addressing this issue is paramount in an industry facing challenges like increased overhead costs, supply chain disruptions and labor shortages.
To keep up with the demand while remaining on budget and on time amid these hurdles, construction teams must navigate many moving parts. Processes must be followed, concepts must be considered and confirmed and designs must be implemented. Tight turnarounds and budget constraints should never compromise project quality. While foundations are put in place and layers are built upon the foundation, progress and detailed analysis of building elements must be tracked and verified.
Even with proper planning, unexpected challenges arise, creating mistakes that disrupt plans. Construction errors have a compounding effect, meaning that preventing one mistake can avert many adverse effects, from rework and workarounds to overtime, requests for information (RFIs) and litigation. The rapid construction growth in Texas further exacerbates this risk because teams have more projects and tighter deadlines to work around.
It's more important than ever for general contractors to keep up with increased demand while delivering exceptional finished projects to developers. Data-driven construction insights offer a measurable standard across every project that enable companies to secure consistent results that define the quality of their brands. These analytic frameworks provide the metrics that prove that level of quality, making it clear to developers that contractors will deliver the certainty needed to expand their businesses.
Employing Technology to Manage Growth
Construction rework can lead to massive productivity loss due to a decrease in momentum and motivation. This is wasted time that contractors could use on the next project. From better anticipating potential budgeting and scheduling issues to boosting worker safety and reducing material waste, investing in the proper tools and reliable verification platforms saves money and protects companies' ability to attract future business.
Verification technology offers real-time actionable data that provides contractors with precise insights, streamlining the construction process and allowing tasks to be completed correctly. It's not uncommon for vital measurements to be off by inches. Still, real-time verification data provides insights into these deviations during the installation process, giving project teams actionable information in time to make corrections.
These tools eliminate much of the back-and-forth of communication between team members and provide workers with concrete insights, next steps and automatic documentation. This resource is valuable in proving project quality and bolstering contractors' reputations, giving them an edge over competitors in securing new projects.
Another benefit of this technology lies in its ability to increase transparency across all steps of the project, improving quality and minimizing errors. This also leads to reductions in the time that teams spend manually checking progress and allows time and resources to be allocated toward more meaningful tasks.
Fueling Low-Rise Construction
One major commercial asset class in Texas that has historically seen tremendous growth in development — and is expected to continue with that momentum — is multifamily.
With highly populated metropolitan areas that are more spread out, such as the Dallas-Fort Worth metroplex, low-rise apartments will continue to be in high demand. These projects present opportunities for smaller contractors and entry-level builders but come with a unique challenges because they are complex and fast-moving.
Rapid identification of issues is crucial for low-rise projects because it enables field teams to fix errors before they're covered up. At the same time, subcontractors on low-rise projects typically lack the tools and resources to identify errors as installations are underway, which leads to a high rate of mistakes and warranty claims.
In addition to direct costs, the overhead required to examine issues and craft solutions for low-rise buildings weighs heavily on managers and consultants alike. Minimizing their exposure to rework by verifying the conformance of every element to plans is essential, which is why delivering insights that are attuned to the low-rise specifications provides teams with immediate action in the field.
These insights allow more careful coordination and planning, thereby ensuring the proper installation of elements. For example, verifying the slab-on-grade foundation of concrete, the alignment of podiums and the exact measurements for other interior elements like mechanical devices or sleeves is crucial for eliminating risk. If errors are not corrected before subsequent work is performed, it significantly derails the project timeline and results in costly rework to adjust before the project can progress.
Though Texas has seen a recent decline in corporate relocations, the consensus is that the market remains strong and will continue to see steady growth. With construction starts in the region primarily fueled by job and population growth, the heightened need for more multifamily and commercial development necessitates data-driven technology solutions that allow teams to work more efficiently and avoid rework. Having the right tools in their kit will ensure contractors take full advantage of the healthy construction market in the state.
— SiteAware is a Houston-based provider of digital workplace solutions for the construction industry.